Infrared Body Wrap System
Infrared heat works by warming the body from the inside out to raise core body temperature, increase metabolic rate, shrink fat cells, and encourage the production of sweat.
Increase Profits, Improve Client Retention
Increase profits, and improve client retention​ with the Infrared Body Wrap system. Adding the FIT Bodywrap System will diversify your client base, increase revenue, combat seasonality without any additional overhead.
It can help:
✓ Wellness Centers
✓ Med Spas
✓ Body Contouring Centers
✓ Gyms and Fitness Studios
✓ Massage Studios
✓ Tanning Centers

Weight Loss
One of the most notable and exciting benefits is weight loss. Incorporating infrared sessions with a healthy lifestyle can help you reach your weight loss or inch loss goals.


Pain Relief
Heat is well-documented as a therapy for many kinds of pain. Because infrared heat soothes inflamed nerve endings, the FIT Bodywrap can help ease and manage pain caused by a multitude of conditions and injuries.
JOINT PAIN
MUSCLE ACHES
CHRONIC PAIN
PERIOD PAINS

Fitness Recovery
Muscle aches and soreness after workouts, caused by elevated lactic acid levels, can set you back or delay progress. Infrared treatments can speed up muscle recovery by lowering lactic acid levels.
SPEED MUSCLE
RECOVERY EASE
ACHES & PAINS
IMROVE FLEXIBILITY
INCREASE ENDURANCE

Detoxification
Detoxing removes toxins that build up in our system causing sickness, aches, pains, allergies, mood swings, and so much more.
RE-BALANCE DIGESTION
BOOST YOUR MOOD
IMPROVE SKIN CLARITY
FEEL BETTER

Anti-Aging
Infrared therapy can improve circulation, carrying oxygen throughout your body and to your skin.
BOOST COLLAGEN PRODUCTION
REDUCE SIGNS OF PHOTOAGING
IMPROVE SKIN ELASTISITY
REDUCE FINE LINES & WRINKLES

Mind/Body Wellness
Far infrared therapy can help maintain healthy levels of cortisol, the stress hormone, which can raise your heart rate and blood pressure. Lowered cortisol levels lead to a feeling of deep relaxation that extends beyond the session, even improving your quality of sleep.
PROFOUND RELAXATION
LOWER STRESS LEVELS
REDUCE ANXIETY
IMPROVE SLEEP QUALITY
Cellulite Reduction
According to FIT Bodywrap's Clinical Director, Dr. Flickstein, "Cellulite is simply fat beneath the skin that tends to have a bumpy appearance because it pushes against connective tissue, causing the skin above it to pucker."
REBUILD COLLAGEN
PURGE FAT
TIGHTEN SKIN
REDUCE PUCKERING

Skin Care
Infrared treatments can provide resistance to UV damage, and even help heal sunburn. The profuse sweating during a FIT Bodywrap session can help clear pores and exfoliate to slough off dead skin.
CLEAR PORES
EXFOLIATE
MANAGE SKIN CONDITIONS
PREVENT & REDUCE UV DAMAGE
Fit BodyWrap System
THE LEADING FAR INFRARED BODY WRAP SYSTEM.
The System works to detoxify the body, soothe aches & pains, speed muscle recovery, & boost metabolism. How? It's simple – direct infrared heat!
The FIT Bodywrap System is a body immersion treatment that delivers far infrared heat directly to the body. During a session the infrared heat penetrates the body which works to increase core body temperature to elevate heart rate and blood
DATA SHEET (PDF)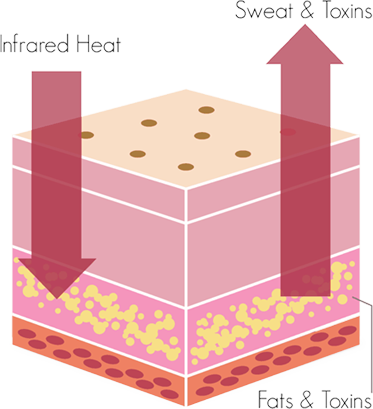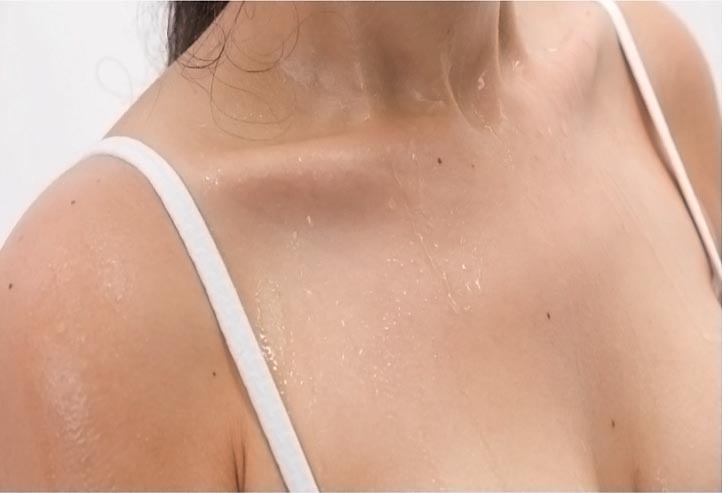 The Experience
THIS FULLY CUSTOMIZABLE
CONTACTLESS SERVICE IS BOTH
THERAPEUTIC AND INVIGORATING.
Clients are able to adjust temperature, up to 130 degrees F, in all four zones to create an individualized experience that meets their comfort level. Sessions range from 30-60 minutes.
Clients are able to adjust temperature, up to 130 degrees F, in all four zones to create an individualized experience that meets their comfort level. Sessions range from 30-60 minutes.
ABOUT INFRARED BODY WRAPS
The Infrared Body Wrap system is a revitalizing full body sauna wrap treatment that cocoons you in soothing far infrared heat.
Infrared heat works by warming the body from the inside out to raise core body temperature, increase metabolic rate, shrink fat cells, and encourage the production of sweat.
This customizable contactless service is beneficial and stimulating for the body, all while helping clients achieve their wellness goals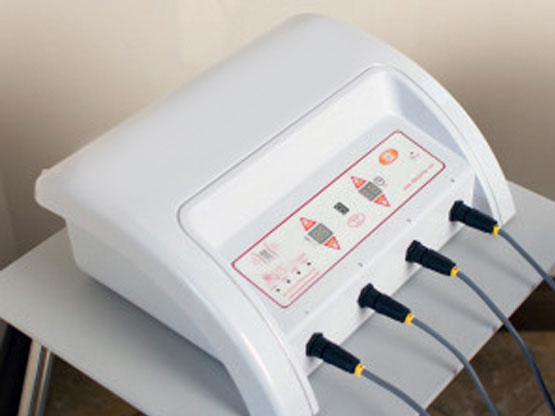 INFRARED FIT BODY WRAP COMPARISON WITH OTHERS
| FIT BODY WRAP | INFRARED SAUNA | INFRARED/ SAUNA BLANKET |
| --- | --- | --- |
| USES INFRARED HEAT | USES INFRARED HEAT | USES INFRARED HEAT |
| MAXIMUM STAY 50 MINS | 10 MINS | LONGER STAY DESPITE NO SAME BENEFITS NOT AS EFFECTIVE COMPARE TO COMMERCIAL WRAPS |
| DIRECT FAR INFRARED HEAT PENTERATES UPTO 1.5 INCHES INTO THE BODY | HEAT IS SURROUNDED IN THE AIR SO BREATHING HOT AIR AND NOT PENATRATING AS DEEP IN THE BODY TO BE AS EFFECTIVE AS FAR FIT BODY WRAP | NOT COMMERCIALY DESIGN TO GIVE FULL EFFECT |
| HEAT HAS 4 CONTROL ZONES CONSISTENT HEAT AND EVENLY SPREAD THROUGHT THE BODY | HEAT IS FAR FROM THE BODY SO NOT PENTRATING AS DEEP IN THE BODY TO GIVE FULL EFFECT | ONLY ONE OR MAXIMUM TWO CONTROL ZONES SO HEAT IS NOT EVENLY SPREAD AROUND THE BODY IN TARGETED AREAS TO RECIEVE SAME BENFITS AS COMMERCIAL WRAPS |
| COMMERCAIL GRADE DESIGN, HEAVY DENSITY SO DESIGN TO LAST LONGER COMPARE TO BLANKETS | NOT DESIGN TO TARGET DEEPER IN BODY TO GET SAME EFFECT AS FIT BODY WRAP | NOT COMMERCIALY DESIGN, LIGHT HEAT, LIGHT IN WEIGHT |
| BURN TO 1200 CALORIES IN 50 MINS SESSION | RELEAXTION ONLY TO BE USED FOR 5 TO 10 MINS | BURN UPTO 300-600 CALORIES |
| OUTPUT ENERGY IN THE RANGE OF 5.6 TO 25 MICRONS | 5 To 10 MICRONS | FIR 5-15 microns |
| 36V | 110V | 22-24volt |
| 135 degree f temperatre | – | UNREGULATED TEMPRATURE UP 30-100 degree f |
| ONGOING CUSTOMER SUPPORT | – | NO CUSTOMER SUPPORT |
| BUILT IN SURGE PROTECTOR | – | HIGH EM INPUT |
| RESISTORS THAT PREVENT OVERHEATING AND BUILT IN SAFETY SENSORS TO PREVENT OVERHEATING | – | USER EXPOSED TO DANGEROUSLY HIGH VOLTAGE |
| PRODUCTS ARE USED TO ENAHNCE RESULTS | – | NO ADDIOTIONAL RESOURSES SMALLER SIZE |
| ONLINE AND FACE TO FACE TRAINING | – | MANUAL ONLY |
| CERTIFICATION PROVIDED UPON TRAINING | – | |
| CASE STUDIES AND FULL RESEARCH REPORT GIVEN AT TIME PURCHASE | – | NO RESEARCH INFORMATION |
FAQs about Infrared Body Wrap Treatments
What is infrared body wrap?
The infrared body wrap is a physical therapy tool that targets and heats certain body parts with the help of infrared light. It is an innovative and cutting-edge technology leveraging infrared light to promote a healthier and happier life for both men and women. The body wrap treatment helps everyone who uses it to achieve fitness goals as quickly as possible. The biggest benefit is that it provides you with the convenience of using it at home or taking a spa treatment.
How do infrared body wraps work?
Infrared body wraps are embedded with infrared light devices. The body wrap comfortably and securely envelops the body at the specific part of the issue you wish to rectify. It has a controller you can use to switch them on, select the desired amount of heat, and make adjustments as needed throughout the session. The infrared body wrap then releases energy waves that gently raise the molecular vibration of the body by penetrating deep into it. The body's core temperature rises as a result of regular molecular vibration, which also increases blood flow, releases toxins, widens blood vessels, supports cell and tissue development and repair and improves metabolism.
What are infrared body wraps used for?
The infrared body wraps are used for relieving muscle soreness, joint pain, chronic pains, and period pains. It is so because numerous pain has been shown to respond well to the use of heat. The infrared body wrap can assist in reducing and managing pain brought on by a variety of illnesses and injuries because infrared heat calms irritating nerve endings. The infrared body wrap treatments are also used to speed up recovery after a workout and induce weight loss.
What are the benefits of infrared body wraps?
The specialist body wrapping techniques are popular for their numerous non-invasive and relaxing results for the entire body. The inch loss body wrap helps in body detoxification, toxin release, weight loss by breaking soft fatty tissues, and faster recovery. The infrared body wraps cleanse pores, manage skin conditions, prevent UV damage, rebuild collagen, increase endurance and tighten skin. The wrapping techniques also relieve joint pain, muscle aches, chronic pain, and period pain.
How can someone make most out of infrared body wrap session?
Answer: The body wrap heats the body which makes it sweat more. During the process, the infrared lights detoxify the body and discharge toxins along with the extra water. That is why it is advised that you drink water before, during, and after the session to aid in the body's removal of toxins and fats.
How often should I use infrared body wrap?
The body wrap treatment takes somewhere between 50 to 60 minutes. Once the desired body shape is achieved, it is probable to revert to a maintenance-only regimen, which for most individuals should be between two and four times per month.
SHOP OUR FIT PRODUCTS